Seal Point at Cape Bridgewater is the largest mainland group of seals in Australia, home to over 1000 Australian & New Zealand Fur Seals and is one of the most popular natural attractions in the South West. A three minute boat ride from the jetty will take you alongside the rock platform and into the Watery Cave where you will experience a unique interaction within the seals' natural habitat. During the 45 minute cruise you will watch the seals play all around you, showing off to the sound of clicking cameras and getting up to antics that will delight both the young and young at heart.
If you are lucky enough you could also experience the thrill of 100's of dolphins playing and launching out of the water alongside the boat. Southern Right and Humpback Whales also frequent the bay during the middle of the year. It is a once in a lifetime experience not to be missed watching these gentle giants!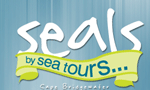 Trips are only done via bookings as departure times vary according to season, demand and ocean conditions. Click on the Seals by Sea logo to the right to visit their website, find out more and book.