Cape Bridgewater has an abundance of natural attractions, most of them caused by erupting volcanoes and other natural events many years ago. Here are some photos and what to look for:
Seal Walk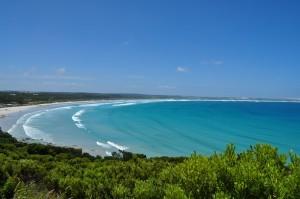 Begins at either the beach kiosk or from the car park at the top of the hill. A 2 hour return walk, medium to difficult. A less energetic and alternative route takes you from the blowholes car park and takes 3 hours return.
Petrified Forest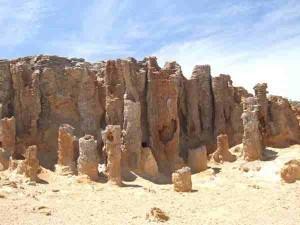 The petrified forest was formed when the forest of Moonah trees was smothered by a large sand dune. Water seeping through the sand formed a crust of sandstone on the outside of the trunks, decaying the organic matter, leaving behind petrified trunks.
A five minute walk to the Petrified Forest is accessed from the Blowholes car park.
Blow Holes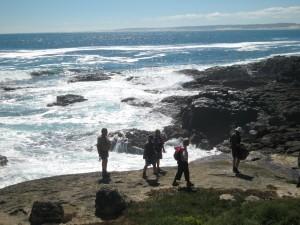 Access to the blowholes is via the Blowholes car park toilets available), 4 kilometres past Bridgewater Beach. The walk is 100 metres in length, and visitors should heed the warning signs regarding the unpredictable nature of the ocean waves in this area.
Gas Bubble Natural Springs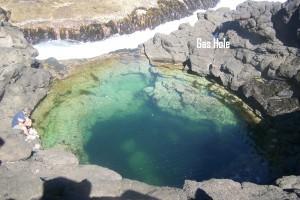 Caused by gas escaping from the lava formed large cavities. The Twin Pools are good examples.
Rock Pools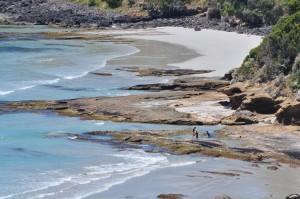 • The ash layers of the Great Cliff – the ash erodes to form wide platforms and large caves at sea level, which make great homes for Australian fur seals.
• The volcanic vents in the Great Cliff – can be viewed from Shelly Beach, or more closely from Flat Rock or the Seal Boat.
• Column Basalt – When lava flows are thicker and cool slowly, they form basalt columns. Good examples can be found near the Springs.
• Lava Dyke – Lava has filled a vertical crack in the ash layers in the cliff above Flat Rock.
• Hawaiian Fountain – This fiery scoria crater is just before Flat Rock and has layer
upon layer of dripping scoria.
Other Natural Attractions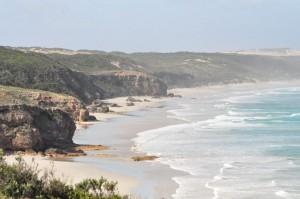 • Freshwater Springs – Water percolates through the limestone and flows on top of the layers of basalt emerging in the cliffs as Springs. Good examples can be found at White's Beach and The Springs.
• Intrusive Lava Flows – Horseshow Reef is a good example.
• Collapsed crater – View a remnant of a very wide collapsed crater from Shelly Beach.
• Sandy dunes – Rising sea levels during later Pleistocene times built a bridge of sand dunes between Cape Bridgewater and the mainland coast. Rainfall and ground water have hardened them into dunes of sandy limestone known as dune calcarenite. Overlying these in places are more modern Holocene Sandy dunes.