The Bridgewater Bay Cafe is an agent for many accommodation places in and around Cape Bridgewater. Choose from a range of accommodation including…
Back packer accommodation from $50 per night
Simple bed and breakfast from $100 per night
Fully self contained accommodation with magnificant sea views that have to be seen to be believed
Resort style accommodation with pools, spas etc…
Below are links to accommodation sites that we have personally visited or stayed at and would recommend.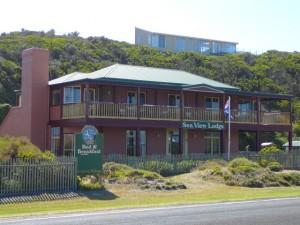 Seaview Lodge has unique character with its maritime feel and stunning views. No matter what the weather you can enjoy the magnificent views of Bridgewater Bay either relaxing on the balcony watching the sky turn pink as the sun sets behind the Cape or snuggled up by the wood fire watching the swell roll in. It's easy to feel at home here with spacious rooms, kitchenette and separate sitting room.
In the morning head downstairs to the beautiful breakfast room where your host Dennis will provide a full breakfast with large range of options available.
In addition to the main B&B, there is a two bedroom fully self-contained holiday house that sleeps up to six and a fully self-contained two bedroom Cottage that sleeps up to four.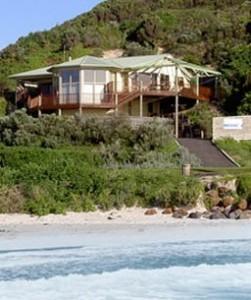 Abalone Beach House
Abalone Beach House is a magnificent, three level house located right on the beautiful white sandy beach of Bridgewater Bay.
The house has breathtaking views of the pristine white sands of Bridgewater Bay and the rugged headland of Cape Bridgewater, Victoria's highest sea cliffs. You might even see whales from your balcony.
Relax in the lounge with a glass of wine while watching the kids play on the large pristine white beach of Bridgewater Bay.
If you choose to cook for yourselves, the fully equipped kitchen will make you feel at home. Alternatively, you can choose from several restaurants, cafes and pubs only 15 min away in Portland. And should the evening or morning arrive with a chill, a crackling wood fire will keep the house cosy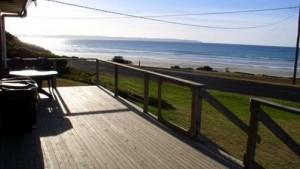 Cockles on the beach
Cockles on the Beach has absolute beach frontage!
Cockles on the Beach is a fully self-contained, two bedroom house, overlooking stunning Cape Bridgewater Beach. Soak up the breathtaking views from your comfy lounge chair or from the spacious front balcony.
Enjoy long, relaxing walks on the white, sandy beach or take advantage of the water and its many activities including swimming, snorkelling, surfing and fishing.
Close to local seal colony walk and world renown Great South West Walk. Ideal accommodation for couples or families.

Cape Bridgewater Coastal Camp
The coastal camp is situated on the hill overlooking the beach. The Camp has 5 types of accommodation
– A 4 bedroom house, with spa and large deck looking down along the beach
– Two fully self-contained Cabins, one 2 bedroom and one 5 bedroom.
– Bunk accommodation in several rooms, some with on suites.
– Powered Camp sites.
– Non powered sites.
Also at the camp there are two large commercial kitchens, toilet and shower block and full laundry.
The Coastal camp doubles as a school camp and caravan park so bookings are required.